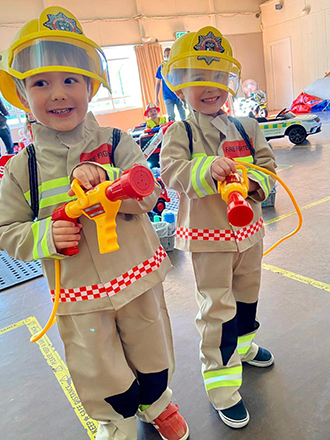 Nee Naw Parties
Children love to play - it's the thing they do best. Nee Naw Parties give your 'Little Heroes' the most memorable, fun and unique play experience.
We aim to bring laughter and joy through our selection of emergency service themed toys, ride-on vehicles, role-play clothing and role-play accessories.
At Nee Naw Parties, we like to see kids leave the fast-paced world behind for just a short time and allow their imaginations to fly.
It's so exciting to see the little ones dress up and hear them squeal with delight through imaginative play. Watch them ride a police car, ambulance bike, or pretend to be a brave firefighter on a big red fire engine!
We understand that role-play is more than just fun; it's a foundation for learning. Role-play also captivates emotion, conscious thought and sensory-motor skills.
Nee Naw Parties Play Sessions
We will also be holding play sessions for children to come along and role-play with toys and ride-on vehicles at different venues across Essex.
From an early age, our children love to make-believe and pretend play is a key learning element; it allows kids to explore and make sense of their world.
Fire up your children's creativity and awaken their imagination today, help build self-confidence and strengthen their brains and bodies.
Pre-schoolers especially love to pretend - many toddlers will adorably begin to play their first 'pretend' games between 18 and 24 months. They usually start by acting out everyday actions they see adults do, like putting on shoes, using keys to unlock a door and talking on the phone.
Nee Naw Parties & Nee Naw Parties Play Sessions are entertaining and ideal for children aged between 3 years and 6 years. The perfect age for pretend play. Please let us know if your little one wishes to play but is slightly younger or older. We will do our best to accommodate all.